Cerri started Purrfect Meows & Wagging Tails to combine her love for animals and knowledge into an invaluable service for both you and your pet. She knows that she requires the best of the best when it comes to her own furry family members and the same will go for your pet.
"I have experience both professionally and personally caring for canines and felines, and currently own a cat that needs special attention. When I first got my baby from the pound after my own cat died of cancer, she was undernourished, her hair was all but gone, and she had a hyperthyroid. Now she is a very healthy cat. With time, she built up her strength by getting her daily shots, vitamins and pills and, as you can see, she is well taken care of. Her name is Kate."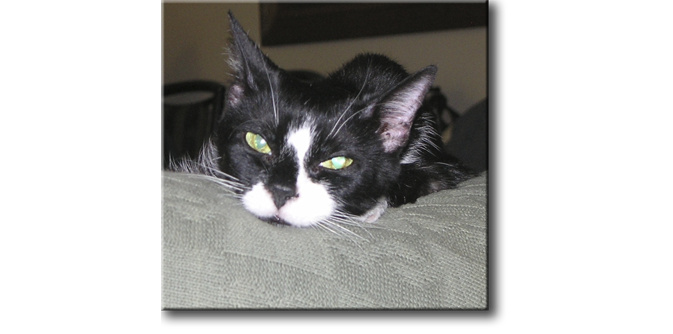 I believe that when you take on the role of parenting a pet you, must take it seriously. Our pets depend on us and trust us to take care of them. Purrfect Meows & Wagging Tails will strive to treat every visit with your pet with the highest level of professionalism. As pet owners and animal advocates, we will not settle for anything less when it comes to the care of your beloved companions.
If your pet has an emergency and you have to work etc… I will gladly take your pet for help. You will also NEVER have the worry about your pets when you are on vacation. I not only feed them, I will spend all of my time with them. Let's face it. Our pets become Family. NEVER worry about leaving them in a kennel again… yikes!
I have long standing accounts that I personally handle. For example, I take care of three cats for 10-15 days per month, they were at first, distant and shy, but now they all sleep with me, they trust me and they are treated like royalty, their names are Tom, Peanut and Lucy. Their parents no longer have the stress of wondering if their part time feeder has remembered to take care of them, their minds are at rest, they no longer worry and I e-mail them every night when all the cats are inside the house and safe.
For another client, I take care of their two huskies that require constant attention. They require a special diet so I cook a chicken a day for them. (I will gladly handle any special diet requirements for any of my clients.) They are walked 3 times a day and are supplied bottled water for their walks. My clients find that their homes are cleaner than when they left.
OUR FURY FRIENDS DESERVE THE BEST AND YOU DESERVE PEACE OF MIND!